Among Us statistics
Among Us statistics: and launched in 2018 by InnerSloth, Among Us is a cops vs thieves game that will require the players to use specific skills: deduction, manipulation, communication, deception, and resilience under pressure.
The game takes place on a damaged spaceship that needs to be repaired by the crew before it can explode. Unfortunately, hidden among the sheep are the wolves, ready to sabotage the whole operation.
Whether by killing other players or by meddling with the equipment, impostors are ready to do it all to achieve their goal. And it is in that 'friendly' atmosphere, that players must then expose the real impostors via a voting system
Crewmates can force other people to gather and discuss the suspects to then vote: get ready for a lot of secret alliances, backstabbing, and strategies.
Among Us was not the huge success story we know today. It started really humbly, with less than 700 players playing at the same time during peak times and servers crashing regularly under the burden.
Until the COVID-19 fiasco started in 2020 and then the game hit the jackpot. With everyone forced to stay at home, Among Us' popularity soared through the roof and was everywhere.
All the ingredients necessary for success during a pandemic were here: the game allows you to play with up to 10 players, it is exhilarating and exciting, easy to understand/play/follow, and easy to stream.
It took over Youtube and Twitch and even helped streamers to expand their community as some were being discovered and some others seized the opportunity of being able to play with big streamers and enjoying that kind of exposition.
So, what do Among Us statistics say exactly about the success of the game? If you're still craving some more information about video games, we think you should head over to our video games industry statistics next, for more facts and figures.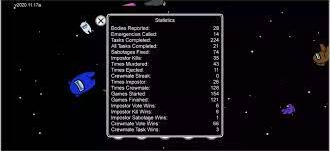 Also Read
Among Us user stats
Players made the success of Among Us and are fully part of the formula. What can be said about them when it comes to that game?
1. Most players are between the ages of 14-30.
Players from 20-30 are at the top of the poll.

They are followed by teens (13-18).

The 30+ and -13 groups form a minority.

The game went from PEGI 16 to PEGI 7.
Among Us is popular with everyone, but particularly with young adults and teenagers. Older people do play it too and several often notice how the lobbies seem to be full of really young people.
The number of players under 13 might actually be bigger, but it is the kind of crowd you see often on Reddit.
2. At the end of September 2020, the game reached 3.8 million concurrent players on PC and mobile combined.
438 524 of those players were using Steam.

Meaning that over 3 million players were playing on their mobile phones.
2020 is the year Among Us was at its busiest, as it was steadily gaining steam. It then reached astounding numbers before the end of the year, enforcing its status as the favorite.
3. The game also hit new records in September 2020, the game hit 60 million daily active users.
Nowadays, those numbers are lower but still good. Unfortunately, InnerSloth is not sharing them often since they are not record-breaking.
4. Some controversies hit Among Us, but they were not the game's fault.
When the US Navy eSports team streamed themselves playing the game, viewers used handles such as "Nagasaki" or "Japan 1945".

Fortnite's new Impostors mode was deemed a perfect copycat of Among Us by the Internet, and the controversy was made worse when it was announced that InnerSloth had actually proposed a collaboration with Epic's game before.
As usual, when a game gets big and has a multiplayer mode, we have to endure the trolls. Thankfully, their clowneries did not affect the reputation of the game.
In the case against Epic, it is sadly a perfect example of how indie developers are treated by bigger companies.
A shame really, considering that indie games lately have demonstrated way more creativity than most AAA games.
Among Us direct stats
With such a success, everyone is a bit curious about topics focused on the money made, the number of downloads, and more information around the game itself.
5. The game was downloaded 100,000,000+ times.
Among Us was downloaded at least 324 million times on mobile phones only.

It was downloaded the most globally in October 2020 with 7.3 million downloads (mobile).
It is not possible to find the exact numbers for other platforms, but one thing is certain: most players are using their mobile phones to play the game.
6. Among Us has generated $86 million as of July 2021.
Players spent the most in October 2020 at $24.5 million.

The US represents $54.6 million of the total profit, which is more than 60%.

By September 2020, the game had earned $3.2 million through its additional in-game purchases. It also has an online store with merch.
Not only does the US have the highest number of players, but it looks like they are also quite light with their wallets. It is a good way to support this small studio.
7. The game has an in-game boutique with microtransactions.
The premium version on mobile removes all the ads and gives access to new skins and accessories. It is also possible to buy different bundles with even more cosmetic options.

Bundles are also available on Steam.
DLCs have been a thing for a while now, the audience is pretty used to it. It is a good way to make some extra money and diversify your income. The items in Among Us are mostly just to alter the visuals, but they can be really funny. Players enjoy customizing their astronauts.
8. The game is pretty lucrative on PC accounting for 64% of Among Us's total earnings.
This number is a big surprise because the PC community only represents around 3% of the total number of players.
The discrepancy is mostly due to the fact that you have to pay for the game on Steam and then we can add to that that most players also want to create their own style for their character and will buy the DLCs.
9. It lost some steam in 2021 on mobile where it has its biggest community.
It is ranked #37 for Most Downloaded Games for Android.

It is ranked #25 for Most Downloaded Games on iOS.
If we think about it, it is not that alarming. The game has already been heavily downloaded around the world. It would be weird to see the same surge right now when most people already have it.
10. The studio received 6 accolades & awards over the last 2 years.
3 in 2020 for a best multiplayer game, best mobile game, and the Golden Joysticks Breakthrough Award.

3 in 2021 for a best indie developer, the Kids Choice Award for Favorite Video Game, and the Webby Breakout of the Year Award.
You can only say "well deserved"! The game has been smashing through that glass ceiling to even be ranked #3 on Twitch, before big names like League of Legends.
Among Us usage stats
The game gained traction in the whole world, but let's not forget that it is a South Korean streamer who shone a light on Among Us, then picked up by Brazil that popularized it and finally heavily streamed by American streamers. Which country is going loco for the schemes and drama?
11. The countries with the highest number of players are the US, Brazil, and India/Mexico.
By January 2021, the US represented 41 million of the total number of downloads globally.

The percentage of players in Brazil is over 19%.

The percentage of players in Mexico is over 8%.
If the US and Brazil are constant, the third spot is a battle royale between Mexico, India, and South Korea.
12. Congresswoman Alexandria Ocasio-Cortez streamed Among Us on her Twitch channel to over 430 000 viewers.
This number is even closer to one million when taking into account the Youtube and Facebook channels of her gaming partners.

Her stream has the third-highest number of concurrent viewers through a single individual's stream on Twitch.
AOC is known to be an actual gamer and she used her stream to urge young people to go vote while also having a lot of fun with her viewers. The stream was a good example of how modern politics can get closer to their younger potential voters.
13. Among Us gathered a tremendous amount of views on Youtube in 2020.
In September 2020, YouTube registered 4 billion views of videos focusing on the game.

 The Pixel Kingdom's "Among Us, but with 100 players" video is one of the most viewed videos (non-live) in 2020.
From edited Twitch streams served as digests to compilations of the best moments to Top 10, Among Us has been the topic of a lot of different types of videos. The most popular are the cartoons and parodies.
14. 11.4 million people follow Among Us content on Twitch.
Over 7 days: the average number of viewers is 4.377, the average number of channels streaming the game is 136, the average number of viewers/channel is 32,2 and the average number of hours watched is 736.784.

The peak viewers are 774.280 in November 2020 and the peak number of channels are 12.362 in September 2020.

The game is streamed by 43% more channels during the weekend, but there are 7% fewer viewers.
It might be smaller than before, but the Among Us is still pretty active. And not finding someone playing the game is pretty rare. Compared to before, the numbers might look trivial, but they are still doing well.
Different platforms to play
The small indie game went where a lot of his fellows have never been before and made it a point to allow all players to share the fun. Starting on mobile, Among us can be found on 2 other platforms and 3 more to come in December.
15. Among Us was released on Steam on November 2018.
The highest number of average players is 176 454 in October 2020.

The highest number of peak players is 438 524 in September 2020.

The number of players has been reduced drastically since June 2021 with an average of 8000-6000 average players and 14.000+ peak players.

513.988 positive reviews have been received on Steam.
It is possible to see how and when the game lost big chunks of its players. With life resuming where it stopped during the quarantines and lockdowns, there is less time to play as much. However, the release of the new map in March 2021 brought back a lot of curious cats.
16. Among Us on Switch, Xbox, PS4, and PS5.
The game has been on Switch since December 2020 and you need a Nintendo Online subscription to play online. You can even play with people using different platforms.

The game will be launched on December 14 on the whole Xbox series with Xbox Game Pass. You will need an Xbox Live Gold to play online.

The same date Sony's console as Among Us will also be launched on PS4 & PS5.
Cross-platform is a smart move in the video game industry when you want to reach a larger audience.
For a game such as Among Us, it is the best choice if they want to convert more fans. It might also present a nice alternative to people who have it on their phone but would rather play on a bigger screen, for example.
Among Us eSports
The format and gameplay of the game are perfect for tournaments and Among Us did offer a chance to the community to play on the big stage.
17. The biggest prize pool in a tournament reaches a total of $30,000.
It was the prize money for the Twitch Rivals Friday Night Bites ft KAT & Among Us tournament.

It is followed by the $25.000 from Faze Clan's own In-Vent-National tournament.
As always with eSports, the prize money is pretty good. And the bigger the game, the better it is. For a small indie game developed by only 4 people, Among us is doing well in tournaments.
18. The Top 3 of the highest-earning players are dominated by the US.
Tyler Niknam is #1 with a total of $25.000.

The first non-American in the Canadian Autumn (#5) with $6.000.

The first British player in the Top 14 is Sliker (#13) with $1000.
The US players occupy most of the leaderboard, leaving only 2-3 spots for other countries (UK & Canada).
19. As of November 2021, 22 Among Us tournaments have been organized.
All tournaments have been held online.

The Twitch Rivals Among Us is the tournament with the most iterations.
Signs of the time, tournaments started when the pandemic was the biggest issue the world was sharing. Therefore, LAN eSports events could not be held thanks to the restrictions and rules implemented.
To sum up
Life as an indie developer is never easy. Between the restricted budget, the lack of notoriety, the AAA games getting released at the same time, and the pirates, it is difficult to have a breakthrough.
But when it happens, it has often to do with timing and luck. Which does not mean that it is bad and it simply was lucky.
All the opposite: the game got indeed lucky but it continued to thrive because it is good. Look at Five Nights at Freddy's, Amnesia, or Poppy Playtime.
Among Us deserves all the attention it was given as the game was a breath of fresh air with its simple -but well-executed- mechanics and the social fun it had to offer in the really tense climate of the global quarantine.
People made friends playing the game and there is a good chance that they also lost after a bit of backstabbing and cunning strategies…but they also had fun.
Among Us statistics videos
Among Us statistics Also Search
| | |
| --- | --- |
| among us statistics crewmate streak | among us statistics color |
| among us imposter color statistics | among us statistics |
| among us downloads statistics | among us statistics reddit |
| among us usage statistics | among us statistics imposter |
| steam among us statistics | among us statistics meaning |
Among Us statistics FAQs
How popular is Among Us right now?
Among Us' player count has been decreasing steadily for a while now as March 2022 was the lowest average player count in this game in the month since it was last played on July 20, 2020. The highest player count occurred in September 2020 when it reached 438,524 players.
How many people play Among Us in the world?
In September 2020 Among Us had 60 million daily active users with the majority of them playing with iOS or Android.
How many copies of Among Us have been sold?
This Nintendo Switch version's launch sold 3.2 million digital units in December 2020, which makes it the top-earning version the game in December and among the most popular games for Nintendo Switch. Nintendo Switch.